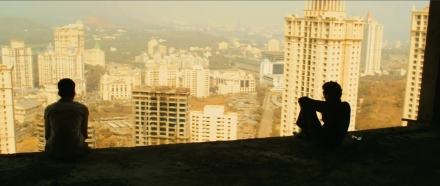 After having seen this year's best film at Toronto Film Festival the trailer doesn't do enough justice. Danny Boyle's
Slumdog Millionaire
is getting the same treatment from Fox Searchlight, as
Juno
and
Little Miss Sunshine
previously had, in hopes of a Best Picture nomination. They are having many
free screenings
in every major city. If your city hasn't been added yet keep checking because it will updated soon. After the trailer there is also a list of release dates in all major US cities. This film is absolutely a must-see, don't miss out.
FREE SCREENINGS:
RSVP now for your chance to attend
.
Trailer (Watch the trailer in High Definition on
Yahoo.com
):
Week #1: Wednesday, Nov. 12
1 Los Angeles
2 New York
3 Chicago
4 San Francisco
5 Washington D.C.
6 Toronto
Week #2: Friday, Nov. 21st
7 Boston
8 Dallas/Ft. Worth
9 Philadelphia
10 San Diego
11 Seattle
12 Denver
13 Baltimore
14 Minneapolis
15 Phoenix
16 Vancouver
More after the jump.
Week #3: Wednesday, Nov. 26th
No new markets
Week #4: Friday, Dec. 5th

17 Atlanta
18 Detroit
19 Indianapolis
Week #5: Friday, Dec. 12th
20 Sacramento
21 St. Louis
22 Austin
23 Milwaukee
24 Hartford/New Haven
25 Madison
26 Ann Arbor
Week #6: Friday, Dec. 19th
27 Houston
28 Miami/Ft. Lauderdale
29 Kansas City
30 Cleveland
31 Columbus
32 Orlando
33 Charlotte
34 New Orleans
35 Louisville
36 Portland
37 Rochester
38 Salt Lake/Boise
39 Honolulu
40 Albany
41 Albuquerque
42 Boca Raton/W. Palm Beach
43 Cincinnati
44 Dayton
45 Nashville
46 Raleigh/Durham/Chapel Hill
47 Asheville
48 Charlottesville
49 Lansing
50 Northampton/Springfield
51 Montreal
Week #7: Friday, Dec. 26th
52 Buffalo
53 Fresno
54 Las Vegas
55 Tampa/St. Pete
56 Champaign/Decatur/Springfield
57 El Paso
58 Harrisburg, PA
59 Memphis
60 Norfolk/Newport News
61 Oklahoma City
62 Omaha
63 Providence
64 Richmond
65 San Antonio
66 Spokane
67 Tulsa
68 Baton Rouge
69 Birmingham
70 Colorado Springs
71 Corpus Christi
72 Grand Rapids
73 Knoxville
74 Lexington
75 Pittsburgh
76 Reno
77 Sarasota
78 Syracuse
79 Tucson
80 Anchorage
81 Des Moines
82 Ft. Myers
83 Gainesville
84 Ithaca
85 Jacksonville
86 Portland, ME
87 Santa Fe
88 Tallahassee
89 Calgary
90 Edmonton
91 Halifax
92 Kitchener
93 Ottawa
94 St. John
95 Victoria
96 Winnipeg