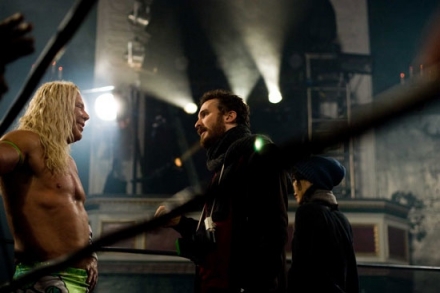 If there are not any there, check back, as more will be added. 
Fox Searchlight has also announced the initial listing of cities that Darren Aronofsky's
The Wrestler
will begin to roll-out into starting on December 17th. The cities and dates are tenative, and are subject to change.
Los Angeles
New York
Boston
Chicago
San Francisco
Washington, D.C.
Austin
Dallas/Ft. Worth
Denver
Detroit
Hartford/New Haven
Minneapolis
Philadelphia
Phoenix
San Diego
Seattle
Albany
Albuquerque
Atlanta
Baltimore
Boca Raton/West Palm Beach
Cincinnati
Cleveland
Columbus
Honolulu
Houston
Indianapolis
Kansas City
Las Vegas
Madison
Miami/Ft. Lauderdale
Milwaukee
Northampton/Springfield
Orlando
Portland
Rochester
Sacramento
Salt Lake City/Boise
St. Louis
Anchorage
Asheville
Baton Rouge
Birmingham
Buffalo
Champaign/Decatur/Springfield
Charlotte
Charlottesville
Colorado Springs
Corpus Christi
Dayton
Des Moines
Ft. Myers
Gainesville
Grand Rapids
Harrisburg, PA
Ithaca
Jacksonville
Knoxville
Lansing
Lexington
Lousiville
Memphis
Nashville
New Orleans
Norfolk/Newport News
Oklahoma City
Omaha
Pittsburgh
Portland, ME
Providence
Raleigh/Durham
Reno
Richmond
San Antonio
Santa Fe
Sarasota
Spokane
Syracuse
Tallahassee
Tampa/St. Petersburg
Tucson
Tulsa